Corporate Profile
Businesses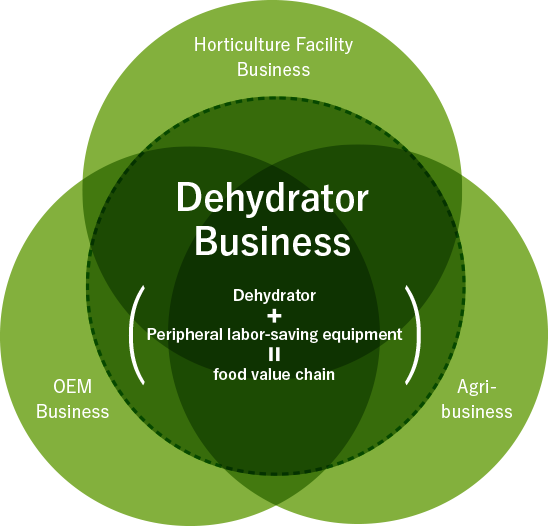 Dehydrator Business
Our main business is to develop, manufacture and sell various types of dehydrators. In addition to the standard type dehydrators, we are engaged in developing made-to-order dehydrators; and have delivered many special machines to research institutions and major food manufacturers.
(Examples) Conveyor dehydrator, cool air dehydrator, dehydrator with humidification/dehumidification function, dehydrator having data accumulation function with attached various sensors, etc.
Peripheral labor-saving equipment and food value chain
We have a system in-house to develop, by ourselves, labor-saving equipment to reduce labor necessary before-or-after dehydration process and have also another system (food value chain) which is designed to provide the optimized labor-saving equipment in collaboration with our partners. We can provide solution to any issue relating to dehydration at one stop shopping.
Food value chain in dehydration process (an image)


Horticulture Facility Business (agricultural greenhouse made of vinyl)
・ GTL heaters
DTL is a type of fuel which does not contain sulfur or aromatics in its combustion gas and has high environmental performance. We are engaged in developing heaters for horticulture facilities which can use this GTL. The heaters contribute to reducing fuel consumed by horticulture facilities, increasing crop yields by promoting photosynthesis, and reducing CO2 emissions.
* GTL heaters are available in some limited regions.
Agribusiness (seeds & fertilizers
After taking over the agribusiness of JT (Japan Tobacco Inc.), we have been handling high-quality agricultural materials such as seeds, fertilizers, compost, and hydroponic cultivation materials.
OEM Business
We are engaged in the OEM business for reflow soldering equipment.
---