Information Security Policy
Information Security Policy
As stated hereinafter, we inform you of our policy (basic policy) regarding information security.
observe our information security policy (basic policy) described herein for the purposes: to protect information assets held by us from threats such as incidents, disasters and crimes; to meet our customers and social trust.
Management Responsibility
We will systematically and continually strive to improve and enhance our information security under the leadership of our management.
Development of In-house System
We will set forth information security measures as information management rules and will set up an information management committee for information management including maintenance and improvement of information security.
Employees Efforts
All our employees will ensure that they acquire knowledge and technologies required for information security and will ensure their commitment to information security.
Compliance with Laws, Regulations and Contractual Requirements
We will comply with laws, regulations, norms, and contractual obligations regarding information security and will meet our customers' expectations.
Response to Violations and Incidents
We will take appropriate measures in case of, regarding information security, violating any law, regulation, or agreement, or occurrence of any incident and will use our best effort to minimize damage and prevent recurrence.
Date of establishment: April 22, 2020
Yasuhiro KIHARA
President
KIHARA WORKS CO., LTD.
We have declared that we are at two-star under "The SECURITY ACTION" system.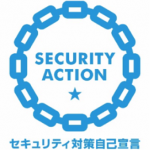 We have declared that we are at two-star under "The SECURITY ACTION" system.
We continue to promote company-wide information security measures.
【What is The SECURITY ACTION system?】
"The SECURITY ACTION" system is a system in which small-and-medium sized enterprises declare themselves to work on information security measures. This system was established by IPA (the Information-technology Promotion Agency, Japan) to realize a safe and secure IT society.
---