Corporate Profile
Corporate Philosophy
"We proactively drive the development of game-changing products forward and contribute to the promotion of regional industries."
Code of Conduct
Every employee at KHIHARA  Co.,Ltd. always:
works in compliance with laws and regulations,
acts with consciousness for balancing and maximizing the customers' satisfaction and the corporate profit,
performs planned work to increase productivity,
focuses on enhancing products quality and improving business.
strive to acquire knowledge, skills and know-how to enhance own ability,
has a spirit of challenge,
accomplishes own role and job to the end with responsibility.
values teamwork and communications,
has a gratitude in mind,
practices 5S + 1S (organizing, tidying-up, cleaning, cleanliness, discipline, safety).
Quality Policy
"KIHARA WORKS Co., Ltd. aims to obtain our customers' satisfaction and trust and provides products of excellent quality with a sincere response at any time."
We believe that enhancing our customers' satisfaction is the origin of quality assurance; and we do our utmost to the development of our customers, society, and our company through high-quality manufacturing.
We thoroughly practice 5S, the basis of quality assurance, and all employees do not compromise their effort to make better products.
We constantly improve our mechanism to enhance our customers' satisfaction.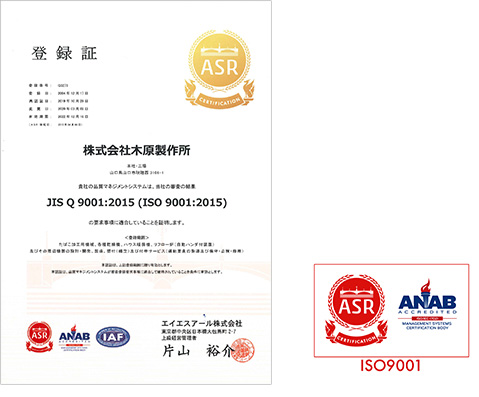 In line with the quality policy of ISO 9001, we strive for continuous improvement.
---