Corporate Profile
Message from President
Thank you for visiting our website.
This year, we celebrate 120th anniversary of our company from its establishment in 1902. We would like to express our deep appreciation for the support extended to us by everyone involved.
In 1928, the Monopoly Bureau of Ministry of Finance appointed our company for the Bureau's one of tobacco leaf dehydrator manufacturers; our company survives as the oldest tobacco leaf dehydrator manufacturer in the industry. Since then, we have been driving our business forward with a focus on development/manufacturing/sales of dehydrators. We have accumulated sophisticated temperature-and-humidity control technology for dehydration.
Our dehydrators have been awarded "The Energy-Efficient Machinery Prize" for the first time among dehydrators for food, agriculture, forestry and fishery products in Japan; and their energy-saving performance has been highly evaluated. In addition to the above recognitions, others are: "Monodzukuri Nippon Grand Prize " under the Prime Minister Commendation System sponsored by the Ministry of Economy, Trade and Industry; "The Prize for Science and Technology" under the Minister of Education, Culture, Sports, Science and Technology Commendation System; a winner of "The Vibrant HABATAKU Small and Medium Enterprises 300 Program" under the Minister of Economy, Trade and Industry Commendation System; selected as a "Driving Company for the Regional Future" by the Ministry of Economy, Trade and Industry; selected as an example of "Discover Countryside Treasures in Japan" by the Ministry of Agriculture, Forestry and Fisheries; and registration on "STePP (Sustainable Technology Promotion Platform)of UNIDO (United Nations Industrial Development Organization) ITPO Tokyo (Investment and Technology Promotion Office, Tokyo). These recognitions demonstrate that our long-standing R&D achievements in dehydration technology have been highly praised from those national organizations and the international organization, and our technology is expected to have a potential for further technological innovation.
We aim to contribute to the promotion of regional industrialization by utilizing the dehydration process, without limiting the use of our knowledge, obtained through the R&D, to our technology development only. Dehydration processing has gained much attention as an effective means of regional revitalization, because it has great advantages in terms of preserving and transporting products together with adding high value to raw materials.
A program by "The Yamaguchi City Office Kanbutsu Department", a joint project with Yamaguchi City and our company, aiming to establish a self-reliant settlement area, has been approved by the Ministry of Internal Affairs and Communications as Japan's first business of its kind. Based on the dehydration technology, we have been contributing to the regional vitalization by the development of various products such as dried foods, dried medicinal plants (raw materials for herbal medicine) and Japanese traditional hand-made paper. Such highly social activities and technological development attitudes have been highly appreciated; and in 2015, we were able to have the honor of being visited by the Imperial Highness of the Crown Prince to our company, which is a great encouragement for every one of our company.
We have various know-how and achievements regarding dehydrators, dehydration processing and the sixth sector industrialization.
We welcome inquiries, etc. from you.
Under the slogan of "You will be amazingly impressed by the drying technology of KIHARA," we will strive to be a more valuable company for our customers and society. We look forward to your continued support in the future.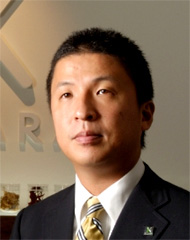 Yasuhiro KIHARA
President
---